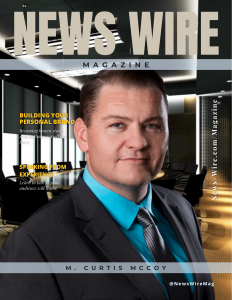 M. Curtis McCoy is a bestselling author, motivational speaker & President of News Wire Magazine.
I'm excited to announce that his company is a Platinum Sponsor for the Healing Conference on December 9th & 10th in Colorado Springs, Colorado!
M. Curtis McCoy, Motivational Speaker
M. Curtis McCoy will fly into Colorado Springs to be a speaker at this conference! He speaks to audiences worldwide on various topics, from leadership and motivation to personal branding, sales, and marketing.
M. Curtis McCoy is known for the successful companies he's built, but he's eager to share a message of hope and inspiration. He grew up in an abusive household, fought Type 1 diabetes since he was only 27 months old, and survived a malignant glioblastoma brain tumor after being given a 0% chance of survival by oncologists in 2010.
Overcoming Adversity
Rather than focusing on the struggles, McCoy spent 20+ years building companies in various industries, including a cosmetic medical LASER clinic, a pharmaceutical company, a Christian clothing company, and a telecommunications company serving 250,000 customers monthly.
While owning three retail stores in Colorado, M. Curtis McCoy took over a press release distribution company and found his true calling in helping entrepreneurs build their personal brands.
News Wire – Press Release Distribution
News Wire launched as a press release distribution company in 1997 and was acquired by M. Curtis McCoy in 2018. News Wire existed to distribute content to newspapers, radio, TV & magazines. After the acquisition, McCoy added RSS syndication, allowing entrepreneurs to share their stories to existing platforms, blogs, podcasts, relevant niche sites, and social media.
Books by M. Curtis McCoy
McCoy is the author of four books available through the world's largest retailers, including Barnes & Noble, Walmart, Better World Books, Alibris, Abe Books, Amazon, etc. His most recent book is being taught Internationally as a curriculum in schools, helping students learn to think bigger and overcome adversity.
His latest book, which will be released in 2023, titled "Becoming Who You Were Meant To Be" will feature interviews with incredible leaders who discovered their identity and are living up to their true potential.
How To Be Successful: Think Like A Leader (June 13, 2020)
Developing Success, Motivation & Inspiration: Success After Failure (October 19, 2018)
Learn to Send the Right Message: Using Nonverbal Communication (October 30, 2018)
Become An Excellent Conversationalist (November 14, 2018)
News Wire Magazine
News Wire Magazine, which McCoy founded, is one of the most widely read new business magazines in the world. This business publication focuses on the stories of entrepreneurs and leaders, offering advice, tips, and strategies for anyone looking to build their own business.
Whether you're an aspiring entrepreneur or a seasoned professional, M. Curtis McCoy's books and his company News Wire can help you reach your goals. With his inspiring story of overcoming adversity and achieving success against all odds, McCoy is a true inspiration to anyone seeking to achieve their dreams. So head over to News Wire today and start building your success story!
M. Curtis McCoy Personal Branding
Recently, McCoy was invited to teach a class to entrepreneurs and business owners at Mesa County Library, "Mastering Personal Branding." He shared strategies and tactics for building your own personal brand, from creating a compelling online presence to establishing yourself as an industry expert.
If you're looking to take your career or business to the next level, M. Curtis McCoy's personal branding tips and insights are just what you need. With his proven techniques and years of experience growing successful brands, McCoy's advice will help you reach your full potential and succeed in today's competitive marketplace. Join us at The Healing Conference in Colorado Springs, where M. Curtis McCoy will teach how mastering personal branding allows you to share your story and inspire others!
"Your story matters. The struggles you overcame can be a message that inspires others to keep going! Build your brand so people can find you to be inspired!" – M. Curtis McCoy
McCoy has spent more than 20 years as a seasoned entrepreneur, building successful companies in multiple industries, but now focuses on helping entrepreneurs, motivational speakers, and leaders build their personal brands.
He has a heart for mentoring, inspiring, and encouraging others. Through his writing, speaking engagements, and online coaching programs, McCoy helps others find their voices and share their stories to build successful brands and achieve their dreams.
M. Curtis McCoy hails from the western slope of Colorado, Grand Junction.