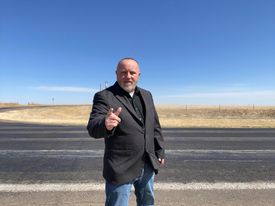 Ron Garverick is a #1 Amazon Best Seller.
Ron Garverick is a motivator, leader, Life coach and a Child of God. Ron believes in paying it forward and inspiring others to do better with their life. Through the grace of God, Ron Garverick has the mindset that if you give people what they want then he can get what he wants. He believes it's for the people, by the people that will make all of this happen. Ron has trained hundreds of salespeople in the automotive industry for the last 12 years and has seen their life change. Not just through selling cars but also seen personal growth in their lives their family.
Ron Garverick has lived rock-bottom. Lived in his car, slept on other people's couches, but also has lived a life of luxury just by tweaking his mindset to be positive. Ron Garverick is the author of the number one Amazon bestselling book "Finding the Real You." He has been told that his book has changed their lives forever. Ron Garverick will bring inspiration, motivation and a true leadership mindset to this conference.